Chief Deputy Sheriff Shawn D. Gillen, 46, of Blaine, is a 24-year veteran of the Aroostook County Sheriff's Office, is the current acting Sheriff and served as Sheriff Darrell Crandall's second in command.
Shawn is a 1991 graduate of Central Aroostook High School in Mars Hill who served in the Army National Guard for 10 years, attended UMPI with a major in Criminal Justice and has been an elected member of his local school board for 17 years.
Shawn joined the Sheriff's Office in 1994, first working as a corrections officer in the Aroostook County Jail in Houlton and then as a deputy sheriff assigned to inmate transportation. He began patrolling The County In 1997 and four years later was assigned to MDEA as a detective. Shawn was promoted to lead the MDEA task force responsible for Aroostook County in 2006, where he continued to serve until being appointed Chief Deputy Sheriff In January of 2015. In the role of Chief Deputy Sheriff, Shawn was and is currently tasked with overseeing all day-to-day operations of the sheriff's office.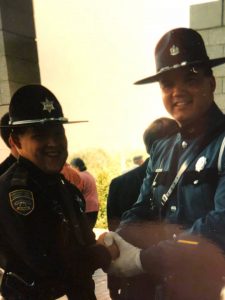 "Of my 24 years with the Sheriff's Office, I have more than 11 years of leadership experience in law enforcement and corrections; three plus years of which is in senior leadership as chief deputy sheriff. While the Office of Sheriff is an elected position, for which nearly any police officer or corrections officer can legally become a candidate, I fully understand what this job really entails. The Sheriff annually prepares and manages two budgets totaling more than $5 million and leads a staff of more than 60 employees."
"In 2017, the Sheriff's Office Public Safety Dispatch Center fielded more than 12,000 calls for service, the inmate transportation unit moved 2,000 inmates over 100,000 miles, the civil process unit served 5,000 civil documents and our deputy sheriffs responded to nearly 8,000 calls for service throughout a rural county that is bigger than Connecticut and Rhode Island combined. There are a lot of moving parts here, and a truly effective Sheriff must be an experienced leader with a consistent and reasoned approach who also genuinely cares about those he serves and those he serves with. I also believe a Sheriff worthy of your support must be responsible with taxpayers' money. My record and reputation will show that I am that candidate."
"We have accomplished much in the last three and a half years, to include significantly increasing our patrol force, acing all of our state jail inspections and boosting our crime clearance rate well above the state and national averages, We have nearly doubled our local jail capacity (at no local cost) and provided advanced training in crisis intervention to most of our front line employees. We have done all of this and much more while spending over $200,000 less each year than what was approved for budgets. This is not political rhetoric. The financial documents to support these facts are available on the county's website."